Go iLawn Proposal Builder. Your Industry Calculator.
Fast. Flexible. Done.
Proposal Builder turns your Go iLawn measurements into a beautifully formatted proposal that can help you win the job. Use it with Go iLawn as an estimator or on its own as a proposal generator to streamline, standardize and expedite the proposal process at your organization. Plus, Proposal Builder offers adjustable production factors and templates to help streamline, standardize and expedite the proposal process at any organization.
---
Use Proposal Builder With or Without Go iLawn
Proposal Builder is a monthly subscription that you can use with the Go iLawn measuring tool as an industry calculator or on its own to create proposal documents. You can turn Proposal Builder on and off as your proposal demands increase and diminish throughout the season.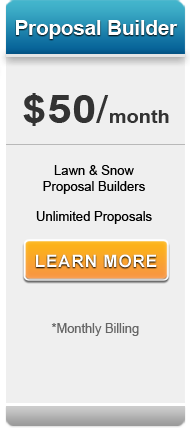 ---
Generate Proposals Faster and Better than Ever Before
Works Great With Go iLawn
Proposal Builder is fully integrated with the Go iLawn measuring system. Create in-depth estimates with the Go iLawn integration or simply use Proposal Builder on its own to produce professional proposal documents.
---
Estimate While You Propose With The Go iLawn Integration

We've built a calculator for you to help you determine equipment production factors for mowers and material costs for fertilizer and other applications. Proposal Builder also comes with (adjustable) industry production factors for common pieces of snow removal equipment to help you create accurate snow and ice management proposals.
---
Access Historical Weather Data
Average snowfall history for any property in the U.S. is built right into Proposal Builder. Our development team collected a decade's worth of data from the National Oceanic and Atmospheric Administration's (NOAA) weather history database. We also have data from Canadian airports and weather stations. It's accessible to you with a click of the mouse in Proposal Builder.
---
Completely Customize Your Proposals
Leave a lasting impression with a professional proposal document. Attach company logos, contact information, contract terms and more, and Proposal Builder will do the rest. Even better, our template feature allows you to save and apply your proprietary production factors, material costs and labor rates to your proposals.
---
Accelerate Your Proposal Process
Proposal Builder saves you time every step of the way. Set up your equipment list, production factors, and material costs, and apply this information to new proposals again and again with the Proposal Builder template feature.
---