Different by Design — Go iLawn vs PropertyIntel
PropertyIntel, an Aspire solution, was released in February 2023, combining industry-leading landscape software solutions Go iLawn and LandOne.
Go iLawn has been the landscape industry's go-to property measurement solution for maintenance work for over a decade. With additional investment and more resources provided by Aspire, who acquired Go iLawn in 2021, it was decided to create a brand new application that builds on the capabilities of Go iLawn.
Starting from scratch with a new software solution allows us to overcome technical debt that naturally builds up in older applications. With the ability to make the new solution smarter, faster, and better than Go iLawn, you may notice some differences in the interface and workflow.
These differences are purposeful. The new layout allows for greater project organization, faster measuring, smarter data analytics, and a better overall experience.
What's different?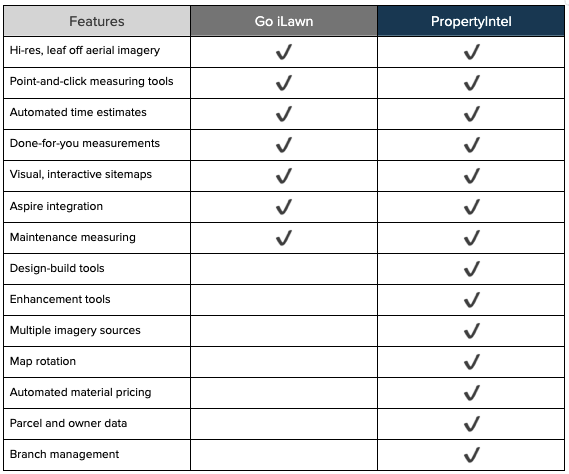 See the difference
If you are already familiar with Go iLawn, we understand that it may be shocking to see the new interface in PropertyIntel.
To help with the transition, we have compiled a few videos to demonstrate the basic differences between Go iLawn and PropertyIntel.
Search for existing projects
---
Create new measurements
---
Add a new group/item
---
Manipulate aerial imagery
---
Submit a done-for-you measurement request
We're here to help
As always, training sessions are free and highly encouraged to ensure you get the most value out of the solution.
If you are already a customer of PropertyIntel, you can request a training session with the PropertyIntel Care team here.
If you are still evaluating your measuring solution and are not yet a customer of PropertyIntel, you can request a solution overview call with an Aspire representative here.