Measure More Properties in Less Time for Landscape Sales, Estimating and Operations
From mowing to chemical application to irrigation and more, Go iLawn is your "go-to" tool for delivering accurate estimates that thrill your customers and optimize your profits.
---
See Go iLawn Property Measurement Tools In Action
---
Turn Property Measurement Liabilities into Assets
With Go iLawn:
Anyone on your staff (from administrator to head estimator) can accurately execute professional property measurement on any property in the U.S. and Canada.
Dramatically reduce drive time (labor), wear-and-tear on vehicles, and fuel costs associated with property measurement.
Transform your site visits into value-added inspections that impress your prospects and build your competitive sales advantage.
Start profiting from Go iLawn today.
---
Go iLawn Gives you the Right Tools for the Job
Go iLawn combines property photos and measuring tools in one easy-to-use application. Go iLawn users can measure any outdoor surface on a property; turf areas, mulch beds, trees, parking lots, sidewalks and more.
With Go iLawn you can quickly and accurately:
Measure Square footage and linear distance
Count trees, shrubs and other objects
Group measurements by surface type (turf, mulch, asphalt, bed edges, etc.)
Obtain property boundaries and owner information
Create clear, concise property diagrams for clients, crews and office staff
Start using the Go iLawn tools today. Get started with your 14-day FREE Trial.

---
Quickly Determine Product and Equipment Needs
Have you ever overestimated or, even worse, underestimated the amount of materials needed for a job?  What about equipment and labor needs and requirements?
Determine How Much Product you Need for Your Jobs:
Mulch (Use our mulch calculator!)
Sod
Seed
Fertilizer
Turf Applications
Salt
Liquid Deicer
Determine Your Equipment & Labor Needs:
Man Power
Mowers
Hand Held Equipment
Snow Plows
---
Works for All Property Types
Go iLawn offers 100% coverage of the U.S. and Canada. View any size property on the site. Your reach is endless:
Commercial
Residential
Industrial
Homeowner's Associations
Golf Courses
Military Bases
Airports
Cemeteries
You name it, you can measure it on Go iLawn
---
Instant Estimator Let's You Measure & Estimate At The Same Time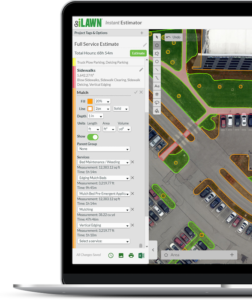 Go iLawn Instant Estimator enhances your measuring screen, giving you at a glance estimating data alongside your measurements.
The total estimated time for the job is displayed at the top and continuously updates as you measure.
Quickly scan your groups to see the services applied to them along with the square footage.
Simply click a group, start measuring and your estimate is already started!
Learn More About Go iLawn Instant Estimator
---
Go iLawn Turns Your Measurements into Proposals Fast
Instead of wasting time driving across town from one property to the next, you'll have more time to impress your prospects with quick responses and fast bid turnarounds.
Plus, Go iLawn's tools are handy for the sales process.
We hear time and time again that our users 'wow' their customers and prospects with labeled, color-coded property diagrams that help them close the sale.
See how Go iLawn can produce better bids today.  Start a FREE Trial.
---
Go iLawn is Integrated with Smart Business Tools You Already Use
Do you use Microsoft Excel? With a click of a button, your Go iLawn measurements export to an Excel spreadsheet.
Save a comprehensive record of all Go iLawn property measurements and objects counted (such as trees) to your computer.
You can also print and save high resolution property photos to your computer, so it's easy to email, print and manage your property photo inventory.
Save property measurements to Excel

Save property photos to your computer
Save Go iLawn project files with our cloud storage
---
Go iLawn Site Diagrams Boost Job Site Efficiency and Performance
Keep your crew clear, focused and efficient on the job. Use Go iLawn site maps to visually assign work and ensure the job is done right the first time.
Print three copies… one for your client, operations manager and office staff. Now everyone has a record of your job execution strategy.
Your Go iLawn site maps are also powerful customer service, sales and retention tools. Use them to show your customer how you will complete the work and who will be on site.
Label key features and information in your Go iLawn photos

Color-code property features
Strategically group measurements
---
Try it Now!
Discover how Go iLawn can help you measure, bid and win more jobs in less time online.
---
Product demos are also a great way to learn more about what Go iLawn can do for you.
Schedule your free Go iLawn demo today.
---
Have Questions?  Need Help?  Contact Us.
Or Call: 800.270.6782