Go iLawn ShareView™ for Landscapers
Introducing Go iLawn ShareView™ – a new feature that lets users create and share non-editable, yet interactive versions of their projects so non-account holders can see the entire property plan.
A new link icon on the map screen allows users to create a view-only sharing link to send to their desired recipients or deactivate the sharing link when they no longer need others to view the project.
Now you can send a special version of your Go iLawn project to others without an account. Send it to customers, crew members, and anyone else you want to see your project.
Lets Landscapers Share their Job Plans with Customers
Landscape contractors who use Go iLawn property measurement software can now share a view-only version of their impressive and professional sitemaps with their customers, prospects, and crew! It's a great way to impress others with the value of your work before the job begins.
A new link icon on the Map allows Go iLawn users to create a ShareView™ link to send to their desired recipients in four easy clicks.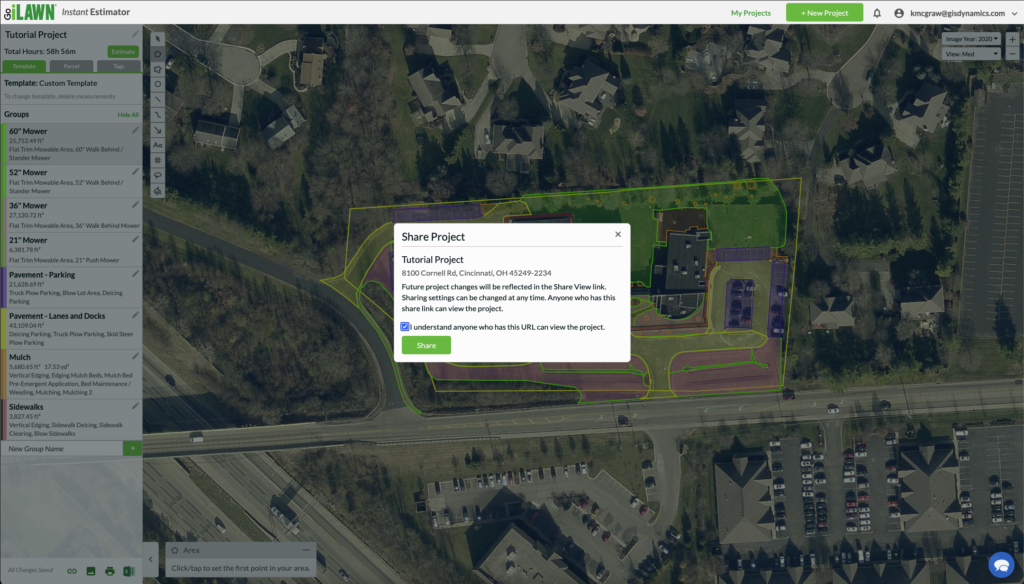 Just create and copy the link, paste it into an email or text to send to your client, and they will see dynamic service plans in their browser, tablet, or phone.
Why Should Landscapers Share their Job Sitemaps?
Share with crews so they can see an interactive job plan during their service visit, with customers to reinforce the job plan and build confidence, or with prospects to impress them and gain their business.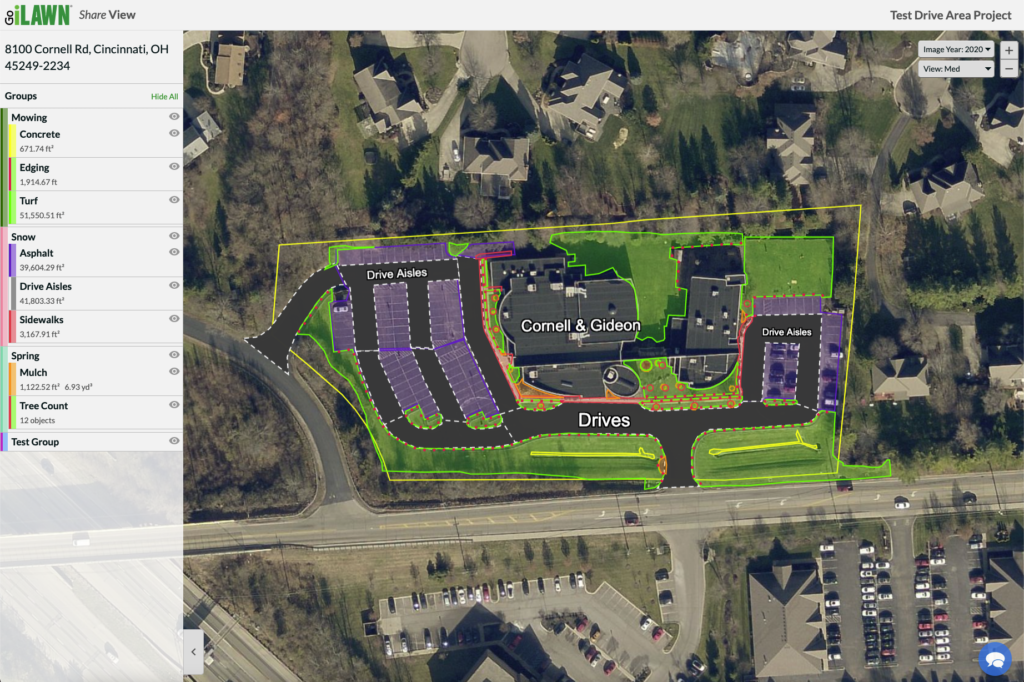 What will the people who receive your ShareView™ link see?
Link recipients can use Go iLawn ShareView to interact with the sitemap you create for the property. They can turn measuring groups on and off to see how the job steps come together, zoom in to see every detail or out to see the whole job and look at their property in up to 11 different views.
The views and interactivity allow your recipient to see their landscape or snow removal job in an entirely new way.
Check out a ShareView™ link here!
---
10 Ways Link Recipients Benefit from Go iLawn ShareView™
Your Clients
Get on the Same Page:
Ensure nothing is lost in translation when speaking with your client about the job to be done. Your client can clearly see which services you plan to perform in specific areas of their property.
Reinforce Trust:
Selling landscape or snow removal services no longer has to be a promise. The professional, color-coded sitemap shared with Go iLawn acts as a visual contact that allows the client to trust that you have an efficient and effective plan to service their property beautifully.
Upsell New Services:
With Go iLawn ShareView™, it's easy to upsell clients with new services or enhancements. They'll be able to see where the new services will be performed on their property, and you'll be able to create multiple sitemaps with different links so they can review all the options before committing. It gives them a choice and lets them know you have their best interest in mind.
Single Source of Truth:
Protect yourself and your client with Go iLawn ShareView™. When you have agreed upon the job and areas to be serviced, both you and your client have a document that clearly and visually explains the work. It acts as your insurance!
---
Your Prospects
Show Your Value:
A prospect you've never serviced before has to trust that you'll deliver what you promised. They don't truly know your value until you've performed the work, but with Go iLawn ShareView™, they can see your value sooner. A prospect will feel more comfortable accepting your bid over a competitor's since you've provided them with an interactive sitemap of their property so they can see the work to be done – before the work even happens.
Impress Them with Your Systems and Technology:
Your prospects will be excited to see their property measured with precision tools on high-resolution aerial imagery. Now, you can send them a link so they can view your sitemap on their computer, tablet, or phone! It's quick, easy, and increases your professionalism.
---
Your Crews
Show them the Big Picture:
Your crews can check the job plan quickly and easily by pulling up the Go iLawn ShareView™ project. Not only can they see the entire job to be done, but your crew managers can strategize on-the-go to service the job perfectly.
Show them the Small Details:
A printed sitemap on a huge property loses the small details your crew needs to deliver great service to your client. With Go iLawn ShareView™, they can Zoom in and see every detail at a granularity of 2 centimeters. This eliminates the guesswork for your crews and allows them to do their job better.
Improve Service Efficiency:
Your crews no longer need to worry about printed sitemaps or files when visiting a property. If they need clarification about the services, they can quickly pull up the ShareView™ link to check your job plan, then get right back to work.
Increase Service Effectiveness:
When your company, crew, and client all have a visual plan of the job to be done, you can ensure your crews will deliver the best service possible without cutting any corners. Plus, if you have Go iLawn InstantEstimator™ and use our pre-designed SmartGroups™, they'll also be able to see how specific equipment corresponds to different areas of the property. It's efficient, effective, and ensures everyone is on the same page.
---
Experience ShareView™ Yourself!